Diabetes
The Brodstone Diabetes Management Program is designed to teach our patients how to manage their diabetes so they can live a normal and healthy life. Our diabetic education personnel is trained to provide one-on-one and group teaching/counseling to meet the individual needs of our patients. This also includes an individual session with our Certified RN Educator and Registered Dietician.
Diabetes Support Group
The Diabetes Support Group meets in several times throughout the year. The meetings are held at 5:15 p.m. in the North Conference Room of Brodstone Healthcare. Please park in the north parking lot, come in to the hospital using the north entrance. Proceed down the main hallway and you will see the signs to lead you to the conference room on the lower level. Speakers are invited to talk about various topics of concern for diabetics. Persons with diabetes, friends & family are invited to attend. For more information please contact Sue Guilkey, RN, 402-879-4432, ext #5291. All are welcome to attend. 
Smart Moves Class
Smart Moves is an evidence-based program that teaches participants ways to eat healthier, exercise and make lifestyle changes to prevent diabetes. One in three people have pre-diabetes and many don't know it. A weight loss of 5 to 7% greatly reduces the risk of diabetes. This class is a one-year lifestyle change class, meeting first weekly, then twice a month, and eventually monthly. This program has been very successful over the past seven years. Most all attendees have lost some weight, with many exceeding their goals. For more information, please contact Sue Guilkey, RN, 402-879-4432, ext #5291.
Continuous Glucose Monitor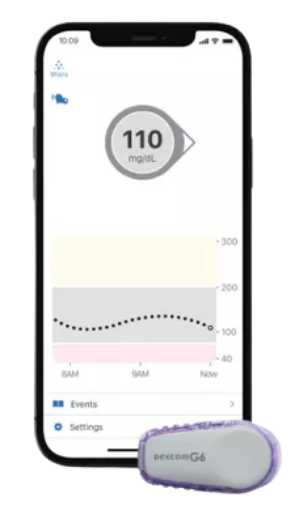 Brodstone Healthcare has a device, Dexcom Continuous Glucose Monitor, that is placed on an individual to wear comfortably at home for up to 7 days. It gives a glucose reading every 5 minutes and helps individuals determine how food, exercise, medication, and stress affect glucose numbers, even into the next day. 
Patients may have a good fasting sugar and never check it again throughout the day. The monitor tracks continual readings throughout the day and night.  This helps determine what part of the day a patient has elevated numbers, and adjustments can then be made. Some insurance providers cover a continuous meter. This easy-to-use diagnostic tool is a great alternative and can be used several times a year. 
Patients benefit from the information this device has recorded. A report is shared with your healthcare provider for evaluation.  Medications and/or lifestyle changes can then be made.  Check with your healthcare provider if you are interested. Brodstone Healthcare staff will contact your insurance to check for coverage. 
Please call Sue Guilkey, Diabetes Educator, at 402-879-4432, ext #5291 for more information. This is a simple and very effective way to learn more about your diabetes health and control.